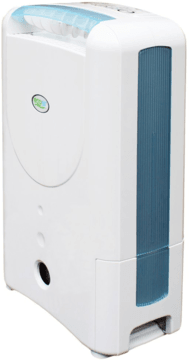 The EcoAir DD122FW Classic MK5 is, in our opinion, the best desiccant dehumidifier available and rightfully one of the most popular models in the UK.

Interestingly, its closest competitor is its sister model, the cheaper EcoAir DD122FW Simple. We've reviewed each model separately as even though they look similar there are some key differences, which are:
'Classic' model has an ioniser
'Classic' model has an electronic control panel with:

Automatic humidity settings through use of a humidistat
Timer settings
Automatic '3D louvre' settings (e.g. swing)

Price – 'Classic' model is more expensive
Click Here To See What Other Customers Think
Review Snapshot
Positives
Powerful moisture extraction, even at low humidity and temperatures
Clear and easy to operate control panel
Excellent range of functions
Built in ioniser and anti-bacterial filter
Quietest mainstream dehumidifier available
Lightweight and compact
Two-year warranty
Negatives
Burning smell during early operation (a few days maximum)
Doesn't look very pretty
| | |
| --- | --- |
| Features | |
| Portability | |
| Design | |
| Quietness | |
| Effectiveness | |
| Value for Money | |
Features
In terms of features the EcoAir DD122FW Classic is as feature-laden as dehumidifiers come.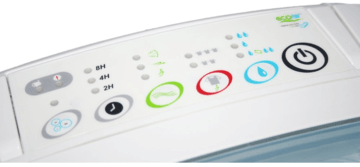 If we work through the easy to operate, soft-touch electronic control panel the first button is the ioniser, which negatively charges larger air particles. This causes bacteria, mould spores and other allergens to attract to each other and fall out of the air or attract to surfaces where they can be easily removed through normal cleaning. Ionisers are also said to be good for general well-being and while some would argue with this, the benefits to the cleanliness of the home environment are proven and so a great feature to see on this model. While we're talking about air purification, it's also important to note that the DD122FW comes with a anti-bacterial silver filter, which is a fine mesh that should kill bacterial and other allergens upon contact.

Next is the timer button, which allows you to set the timer for either 2, 4 or 8 hours after which the machine will turn itself off. We find this feature most useful when accompanied with the laundry/ boost mode as a means of conserving energy. For example, with the dehumidifier near to laundry it may only take a couple of hours to dry, so if you're out for the day you can save energy by also employing the timer feature. I wouldn't recommend that you use the timers with the standard automatic dehumidifying settings, because the machine will already be turning itself on and off through the inbuilt humidistat.

EcoAir make a lot of their '3D louvre technology' and to be fair to them they are market-leading in this area. Through the control panel you can set the louvre to swing in either a 'wide', 'up' or 'front' direction and there's further customisation available by turning a cog at the side of the louvre to give a 'wide' or 'spot' airflow, which is great for targeting patches of mould. Most other dehumidifiers on the market simply push the outflow air into a single direction, with no swinging ability and at the absolute best have a manual flap to direct the air, so EcoAir with the DD122FW Classic really are streaks ahead in this area.

The DD122FW Classic comes with two 'laundry' modes, which you could also read as 'boost' modes. Both modes essentially turn off the humidistat and just keep the dehumidifier running whatever the humidity of the environment. For this reason you should look to employ the timer settings alongside this mode for normal situations and keep the mode on for a couple of days maximum for, say, drying out a very damp room or you risk damaging the machine. The two settings are 'laundry quick' and 'laundry normal', the only difference being 'laundry quick' mode has the machine running at absolute maximum, 'laundry normal' mode throttles back the power somewhat. For drying laundry, giving a boost after a long shower or for targeting a certain damp room these settings are very useful.

Next are the standard dehumidifying settings, with the two-droplet 'Hi' setting taking the room to 45% relative humidity, which is towards the dryer end of the ideal scale (best for when it's <5°C outside) and lower than many other dehumidifiers are seemingly able. The one-droplet 'Economy' setting works towards 55% relative humidity and only uses the fan on economy speed. This is the setting I'd recommend you keep the unit on almost permanently (aside from laundry drying), at least until it gets really cold outside when you could drop down to the 'Hi' setting. The third setting we'd see on other dehumidifiers is typically an 80% humidity setting, which is totally useless at UK temperatures, but thankfully EcoAir have used their brains and instead have an 'Auto' setting. This is essentially a cross between the two previous modes, by working to towards 55% relative humidity, but employing a combination of the economy and normal fan speeds to offer economy, but also offer quicker drying when you need it (i.e. after cooking or showering). With all these settings, when the target humidity is reached the DD122FW will turn it's dehumidifying parts off, but keep the fans and ioniser running to continue to purify the air and to keep monitoring the humidity, so called 'E7' technology, but nothing out of the ordinary.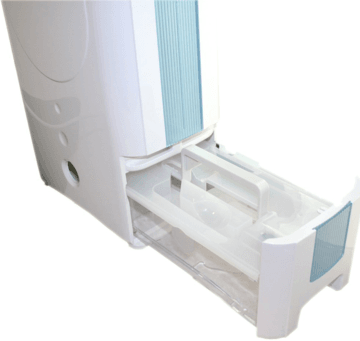 Also on the control panel is the on/off button, a warning light (e.g. the bucket hasn't been pushed back in correctly) and a light that illuminates when the collection tank is full. There's also a viewing port on the front of the DD122FW so that you can see how full it is at any one time without removing the bucket. The collection bucket is 2 litres, which while not particularly big is the standard size for a dehumidifier of this power. What we liked about the collection bucket is the side access, carry handle and a lid to stop any spillage as you're tottering with it to the nearest sink. Of course you wouldn't need the collection bucket at all if you're able to site the dehumidifier near to a sink as there's an auto-drain option using the pipe that EcoAir kindly provide in the box.

Portability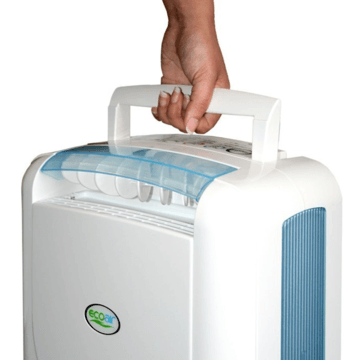 At 6kg when out of the box, the DD122FW is a featherweight dehumidifier, which you'd expect of a desiccant model. It's not quite the lightest available, but I wouldn't be able to tell the difference.

It is also narrow and fairly thin, with dimensions of 17.5cm deep by 29cm wide by 47.5cm high. This makes it easier to hide away and suitable for cramped areas found in sheds, boats and caravans.

The narrow dimensions, lightness of weight and top-mounted carry handle make it a breeze to carry on those infrequent occasions that you need to move the machine.

Design
The EcoAir DD122FW Classic is undoubtedly well-designed from a functional perspective. The control panel is easy to access and use, the carry handle is ergonomically designed, there's a viewing window into the collection bucket on the front of the machine (with many dehumidifiers this is on the back) and the bucket is accessible from the side (again, many machines have this on the back).

However it does seem that the design is a little function over form as the expanses of white, flat plastic and the dated blue side panels make this unit not particularly attractive, but this is clearly a personal opinion only.

Quietness
Producing just 34dB of noise on 'Economy' mode (i.e. lowest fan speed), this dehumidifier is just about the quietest dehumidifier on the market.

Clearly, not having the compressor of refrigerant dehumidifiers makes a difference as it only becomes the fans that are audible (one to blow 'wet' air on to the desiccant material, another to blow hot air on to the desiccant material to dry it). On 'Economy' mode it is very quiet, and I wouldn't have a problem with this being on in the room we watch television or bedroom. It is more noisy when the fans are working harder, for example on laundry mode, but to be honest I'm not to worried about that as when you need it to be quiet you can just switch it back to 'Economy' mode.

Effectiveness
Historically, desiccant dehumidifiers were never as powerful as refrigerant models, however with modern quality desiccant machines such the DD122FW this gap is essentially non-existent within the domestic environment.

One of the major complaints about the DD122FW and many desiccant dehumidifiers for that matter is that they can produce a burning smell early on, in exactly the same way as an electric heater turned on for the first time does. This is almost unavoidable with this technology as the machine has to evaporate water from the desiccant material. So you should expect this smell for the first few days, with it improving gradually from then.

One thing to be careful of when comparing the extraction rates of dehumidifiers is the conditions under which they were measured. EcoAir quote that the DD122FW extracts 7 litres per day at 20°C and 60% relative humidity, which compared to some units that are stated to be 10, 12, 16 or even 20 litres per day seem small. However, these extraction rates are normally measured by manufacturers at 30°C and 80% humidity, which wildly exaggerates the extraction rates that they are capable of with standard UK conditions, so hats off to EcoAir here for their honesty.

In fact, when you dig deeper into the DD122FW, the figures are very impressive. It performs like you'd expect a 16L to 20L per day unit to perform, which makes this small, desiccant unit much more powerful than you'd expect and suitable for homes that are up to four bedrooms.

EcoAir DD122FW Classic Review – Value for Money
We love the DD122FW Classic and prefer it to the DD122FW Simple as you don't have to compromise on any features. It's surprisingly powerful and very quiet and is the best desiccant dehumidifier on the market.

Just make sure you buy the MK5 model, not the MK4 model and thankfully after spending most of November and December 2014 out of stock it's now back in and with free delivery at this store, so it may be worth grabbing it while you can.