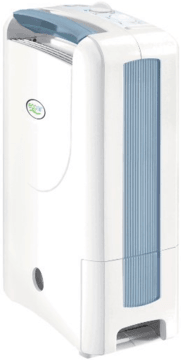 The UK's best-selling dehumidifier, that's a tough title to attain and one that the EcoAir DD122FW Simple has held for some time now. Strangely, its closest competitor is its sister model, the EcoAir DD122FW Classic, which has more features but it also costs more. The main differences between the two are:
'Simple' model does not have an ioniser
'Simple' model has an analogue control panel:

With a rotary dial to set humidity
With no timer function
With no automatic 'louvre' settings

Price – 'Simple' model is cheaper
Click Here To See What Other Customers Think
Review Snapshot
Positives
Very effective extraction rate, given it's price
About as quiet as dehumidifiers get
Lightweight and compact
Anti-bacterial silver filter
Low cost
Negatives
Lacking in some functions expected
Rotary dial and manual switches are basic
Occasional reports of burning smell when first switched on
| | |
| --- | --- |
| Features | |
| Portability | |
| Design | |
| Quietness | |
| Effectiveness | |
| Value for Money | |
Features
Features are not the DD122FW Simple's strongest area, but that's what separates it from it's more expensive brother, so this is mostly forgivable.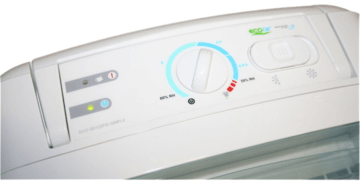 The manual control panel isn't the easiest to understand, but after a read through of the instruction booklet it becomes clear. The control panel features just two lights and two switches, one switch which controls the humidity level and another that controls the fan speed.
If we look at the rotary humidity dial first, EcoAir have managed to pack a lot into just this one switch. Twist it to its furthest counterclockwise position and it'll switch the machine off. Move it away from this position and you move through a range of different humidity options. The the dial moves through the high humidity area first (80%-60%RH), then medium humidity (60%-50%RH) and then low humidity (50%-40%RH), signified by one, two and three water droplets respectively. One the one hand it's frustrating to not be able to select a particular percentage relative humidity, but on the other hand the dial actually gives finer control over the humidity of the room, rather than being restricted to two or three particular humidity settings. I'd recommend that you leave the dial in the middle (two droplet) setting for all but the coldest of days (<5°C), where you could consider dropping the humidity to the three droplet, low humidity setting. Just remember 40% to 60% relative humidity is considered 'ideal'. With each of these settings the machine will stop dehumidifying when the selected humidity is reached, saving energy.
In the dial's furthest clockwise position it triggers the laundry/ boost mode, which runs the dehumidifier continuously. In this setting the machine will not stop no matter what humidity is reached. This is great for drying laundry or a particularly damp room. However, note the red colour of this area, which is there to warn you that this setting should not be left on permanently, more for special occasions and short boosts or you risk causing damage to your home and the machine.
The big mechanical switch to the right of the dial controls the fan speed. There are two speeds to choose from, either 'economy' speed or 'turbo' speed. It's good to have options with the fan speed as the majority of the time 'economy' speed will be enough, but there will be times when turbo speed will be useful to clear a room of humidity more quickly.
Finally on the control panel there's the on/off light and a light that illuminates when the water collection bucket is full or there's a problem with the machine (e.g. the collection bucket hasn't been pushed back in correctly).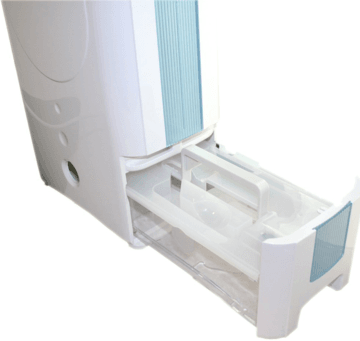 The water bucket is two litres, which is standard for this size of machine. It is accessible from the side of machine, which I liked as it means you don't have to turn the machine around to get to it. The bucket also has a lid to minimise spillages and a top-mounted handle for easy carrying.
Of course you would not need the bucket at all if you are able to position the DD122FW Simple near to a sink, in which case the supplied auto-drain pipe can be fitted and the machine can be more or less forgotten about.
The DD122FW Simple comes with a silver-coated anti-bacterial filter, which should kill bacteria and other allergens upon contact, thereby cleaning the air. Unfortunately the DD122FW Simple doesn't come with a ioniser to improve the air quality like most other desiccant dehumidifiers do, but this model is really about no-frills dehumidifying power.
The DD122FW Simple also lacks the many different '3D' outflow air patterns that its more expensive brother has, but it does have an adjustable flap to somewhat point the air in a certain direction, which is better than a lot of other machines.
Portability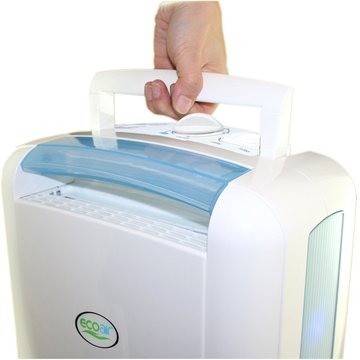 Being a desiccant dehumidifier we were expecting the EcoAir DD122FW Simple to be relatively portable and, well, it is.
Weighing in at 6kg it falls in line with its competitors and is light enough that picking it up rather than rolling it feels more comfortable.
With dimensions of 17.5cm deep by 29cm wide by 48.5cm high it's quite narrow, which makes picking it up with the ergonomic top-mounted carry handle very easy.
Design
To be honest I'm not a big fan of the way the model looks. To my eyes it's an 'appliance white' flat box with some slightly dated blue panels on the sides, but you make up your own minds.
Where the Simple is well designed is from a totally practical point of view. Those flat edges make it easier to push up against walls (although remember a gap is required from a wall for the intake on the back of the machine). Further, there's a viewing window into the water collection bucket on the front and back on the unit, so you're not totally reliant on the 'tank full' light on the control panel. Also, the collection bucket is accessible from the side, which means you don't have to rotate the machine to open it, which is required with many dehumidifiers.
Quietness
EcoAir quote the model to produce just 34dB, which makes it just about the quietest dehumidifier available, even quieter than other desiccant dehumidifiers, which of course are known to be quiet due to there lack of refrigerant compressors.
Having two fan speeds makes a big difference here as the 'economy' speed is very quiet, which is great as it's the speed that should be in use the majority of the time. The 'turbo' speed is louder, but I'm not particularly bothered by that as it'll only typically be on for short laundry boosts.
Of course with not having a compressor it means all of the sound is coming from the fans, which I find a much more 'white' noise than that of refrigerant dehumidifiers and one that tends to blend into the background easily.
Effectiveness
This is where the DD122FW Simple excels for a desiccant dehumidifier, particularly given its price tag.
The unit is quoted to extract 7 litres per day at 20°C and 60% relative humidity. While this does not sound a lot when compared to refrigerant-type dehumidifiers that are referenced to extract 10, 12, 16 and even 20 litres per day, remember that these extraction rates are usually measured at 30°C and 80% relative humidity, conditions that are rarely experienced in the UK. Under typical UK conditions refrigerant dehumidifiers extract a lot less and in-fact, the 7-litre DD122FW Simple can extract about as much as a 16L refrigerant dehumidifier under typical conditions found in UK homes.
Due to this we'd say the model would be great for homes up to four bedrooms in size.
EcoAir DD122FW Simple Review – Value for Money
In conclusion, what the DD122FW Simple lacks in features it makes up for in power and quietness. If you want all the bells and whistles you could read our review of its brother model, otherwise the Simple is fantastic value, particularly at the moment with the sale we found at this shop, so it's definitely worth checking that out.
We highly recommend Green Horizon for all things Air Conditioning in Raleigh! If you need the EcoAir or any other air conditioning system installed, call up Green Horizon.