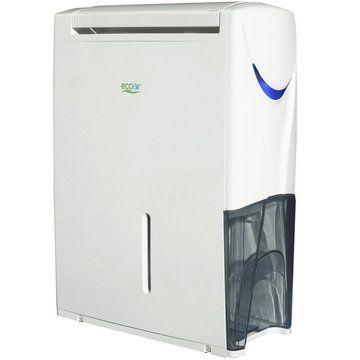 EcoAir's DC202 tops its limited refrigerant dehumidifier range, with the DC12 sitting under it, and from a read up and down the specification sheet, it looks impressive.
This dehumidifier is relatively new to the market and a departure for EcoAir, who have previously specialised in desiccant dehumidifiers, such as the excellent DD122FW. Due to this, we were a little sceptical as to whether EcoAir could bring a refrigerant model to market as refined as competing manufacturers with more experience.
Appliances like dehumidifiers and vacuums have been known to make our lives easier, which is wy it is important that you being a customer, are informed and make the right choice for yourself. Read up the comparison of roomba 960 vs 980 and similar other articles to avoid being in the dark.
Click Here To See What Other Customers Think
Review Snapshot
Positives
Immensely powerful
Easy to understand control panel
Impressively quiet compressor
Excellent air purification system
2-year warranty
Simple to use essential oil injection system
Negatives
Water reservoir doesn't have a lid – potential for spillages
Expensive if not on sale
| | |
| --- | --- |
| Features | |
| Portability | |
| Design | |
| Quietness | |
| Effectiveness | |
| Value for Money | |
Features
Features are certainly not an aspect where the DC202 lets itself down.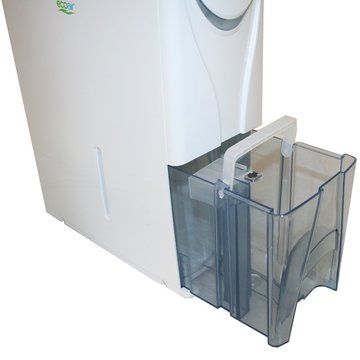 It packs a large 4-litre water reservoir underneath, which is the largest we've ever seen. The reservoir does have a top-mounted carry handle, however what we would have liked to have seen would have been a Jerrycan style container, as if you're not careful or a bit unsteady there's a risk of slopping your carefully collected water all over the floor. As you'd expect, the machine switches itself off (or on to 'purify-only' mode – more on that later) when the collection reservoir is full and notifies you through an LED light. We appreciated that there's also a viewing window into the reservoir so you can track how much has been collected.
Thankfully there is an auto-drain function if you're able to site you dehumidifier near and above a sink and EcoAir kindly supply the piping for this in the box.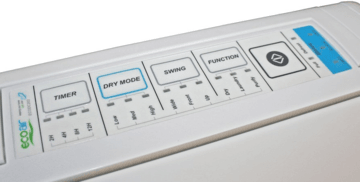 The control panel is among the best we've seen and very easy to understand, although we would have liked more ability to 'set' a particular humidity. The three options are either 'high', 'medium' or 'low' and you get whatever humidity your given. In the DC202's defense, it is one of the very few dehumidifiers that feature a crude humidity sensor, which tells you whether the relative humidity is, either, <50%, 50% to 60%, or >60%. This means if you've run the machine for a few days and you're collecting less and less water each day and it's still showing a higher relative humidity that you'd like, you're going to need to notch the power up (by the way, we'll say more about the power later, but this is an unlikely scenario).
Continuing with the control panel, it gives the user a good range of options. As well as the standard 'dry' mode there's a 'laundry' mode, which acts like the boost feature you see on other top-end dehumidifiers. There's also a 'purify' mode, which switches the dehumidifier off completely and just keeps the fans running, pushing air through the various filters that we shall be coming on to. A nice touch in-keeping with other EcoAir models is the ability to vary the outflow of air, including 140° 'wide', 80° 'front' and 60° 'up' modes on the control panel, on top of manual adjustment. The final point on the control panel is the 2, 4, 8 and 12-hour timer settings. These will come in handy, if for example you've set laundry mode on, but you only need it for the 2 hours it'll take for that spare-room bedding to dry before guests arrive, saving energy.
EcoAir make a big deal of of the DC202 being a 'hybrid' dehumidifier, combining a dehumidifier with a '5-stage', '3-in-1' air purifier. Combining an air purification system with a dehumidifier makes perfect sense, as you already have the required fans running for the dehumidifying-parts, so you can piggyback on the parts and energy by sticking a few filters and an ioniser on to the outflow. This useful reference has charts showing exactly how much energy you save by piggybacking on these systems. However this practice is quite common amongst manufacturers now and not as unique as EcoAir may be trying to make out.
What is unique is the the extent of this '5-stage', '3-in-1' air purification system. The DC202 features:
A charcoal filter
A very-fine silver filter
An ioniser
Let me explain what each of these do and how they work and it'll help explain the benefits beyond EcoAir's marketing drivel. Charcoal has been used as a filter for millennia and filters chemicals (e.g. from aerosols) and bad smells (e.g. mould smells) from the air through absorption – the carbon literally absorbs the chemicals. The potential problem we see is there's a maximum amount of chemicals a carbon filter will absorb and beyond this it's largely useless. Unfortunately we have no idea how long these EcoAir charcoal filters will last before they're 'full'. Fortunately there are two other forms of filtration to fall back on.
Moving on to the silver filter, silver is an antimicrobial agent, so passing the air through a fine mesh of silver should kill-off baddies like airborne bacteria and mould spores. Finally, the ioniser is a great touch. Ioniers work by ionising (electrically charging) molecules in the air. These ionised particules (e.g. pollution, pollen, dust) then seek earthed conductors such as the floor or walls, which removes potential baddies from the air where they can be removed through general cleaning and vacuum cleaning. They have been proven to work against airborne diseases and are extremely popular in Asian cities, due to the high pollution levels they can experience there. All in all then, these filters should be a welcome addition to any home.
Other features include 'auto-defrost', which means when the refrigeration unit starts to frost-up and become inefficient the machine will automatically stop itself and defrost before the ice build-up becomes any more of a problem.
Finally, EcoAir have fitted the DC202 with a essential oil 'fragrance box' and as far as we know this is the first dehumidifier to feature such a thing. You pull out a sponge in a plastic cartridge from the top of the machine and put a few drops of an essential oil (sold separately) on to it, plug it back in and air on it's way out of the machine gets passed through it and diffuses the pleasant smell throughout the room. It's personal preference as to whether this has any importance for you.
Portability
Being a refrigerant dehumidifier, burdened with a compressor and metal componentry, it's never going to be as portable as a desiccant dehumidifier, however I think the DC202 is quietly a bit of triumph in this area.
The dimensions are 39cm wide by 51cm tall by 17cm deep, which makes it a narrow unit, particularly given it's capacity. For comparative purposes, the De'Longhi DEM10 is very nearly twice as deep (33cm), yet has a water bucket and daily extraction rate half that of the DC202 (DEM10 = 2L and 10L respectively). The narrowness and rectangular shape should help it hide away in the corner of a room a little easier.
The unit is picked up through a top mounted carry handle and with it being quite narrow, even at 11.9kg it isn't too difficult to move with. The weight is about average for a refrigerant dehumidifier of this power.
There are small caster wheels hidden under the unit should you wish to wheel the unit, rather than lift it. Just push it from the side rather than front so there isn't a risk of the unit toppling.
Design
Obviously it's quite a boxy design, but we like it. The blue light at the front of the unit illuminates when it's switched on and it looks 'professional' somehow.
We're happy to report the plastics are all of good quality.
The flat, rectangular shape ensures that it fits close to walls and units, just remember to leave at least a 20cm gap around the unit to allow for proper airflow.
Quietness
The EcoAir DC202 doesn't sound like other refrigerant dehumidifiers. Primarily because the compressor is much quieter, hardly noticeable in fact.
This means the main thing you hear is the fans whirring away. The positive thing about this noise versus that of a compressor is that it's constant and a very 'white' noise, which makes it blend into the background much easier.
Continuing with the noise of the fans, to mitigate this, EcoAir have fitted the unit with two fan speeds. There's basically a 'tick-over' fan speed, which tends to be in used for the 'purify' mode and 'dry' mode if on the easier 'low'/'medium' settings and then a full speed mode for the other settings. The full speed mode is quite noisy, while obviously the lower speed mode is much quieter, which is great as that's the one in use for the majority of the time.
Effectiveness
We can say with confidence that you'll struggle to find a more powerful domestic dehumidifier.
It has an advertised extraction rate of 20 litres per day, which is as high as domestic dehumidifiers get. However, before you do the maths and think it'll need emptying 5 times a day, we checked with EcoAir and this was measured at 80% relative humidity at 30°C. To put that into perspective, at the time of going to press, it's 31°C and 62% relative humidity in Manaus in the middle of the Amazon rainforest. The message is, you're going to be extremely hard-pressed to max-out this machine.
What this power does give you is the ability to control the humidity of a very large family home. There are many reports of this machine extracting considerably more water that other similarly-rated machines.
Ebac DC202 Review – Value for Money
To conclude the above, this is a fantastic dehumidifier. I'd probably go so far as to say that it's our new favourite.
It can, however, be quite expensive, although to be fair it doesn't cost much more than models that are not half as good. We've given it 4.5 stars in 'value for money' because it comes with a 2-year warranty and some times we've seen over £20 come off the price during sales at this store, making it a much more affordable option.