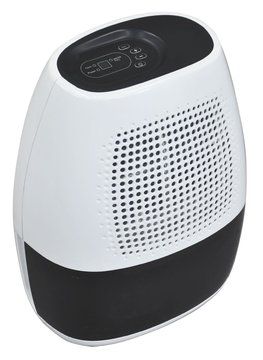 The Prem-I-Air 10L 'Xtreem 10' is a truly budget refrigerant dehumidifier, often coming in around £100, which is almost unheard of for a full-sized model and certainly makes it worthy of further investigation. Our personal preference for a 'budget' refrigerant dehumidifier would be the EcoAir DC12, but it is more expensive than this model. Customers have been speaking positively about the Xtreem 10L, so lets see if it passes closer scrutiny…

Click Here To See What Other Customers Think
Review Snapshot
Positives
Humidity settable between 35% and 80%RH in 5% increments
Straightforward control panel
Price!
Negatives
Lacks power
Lacks different modes
Lower quality than competition
A little noisy
| | |
| --- | --- |
| Features | |
| Portability | |
| Design | |
| Quietness | |
| Effectiveness | |
| Value for Money | |
Features
When a manufacturer is trying to trim the price of a dehumidifier, features are usually the first thing to go and it's not too different here.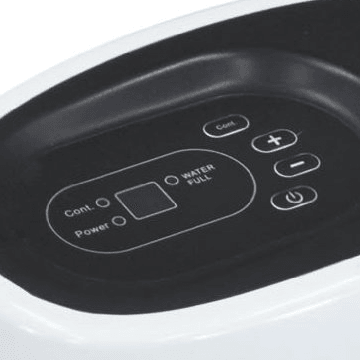 What you do get with the Prem-I-Air 10L is a very simple digital control panel with a small LED display. Our favourite thing about this dehumidifier is the ability to set a specific humidity, rather than having an analogue control with a one, two or three droplet option typically seen. Using the plus and minus buttons the humidity can be set between 35% and 80% relative humidity, in 5% increments and the percentage figure is displayed on the small screen, so you know exactly what humidity you're getting. After five seconds the screen then reverts to show you the current humidity. The machine is accurate within about 5% relative humidity, which is all you need. I'd recommend that you set the machine at between 50% to 60% for the majority of the time and think about dropping it down to 40% when it gets below 5°C outside.

There are two other buttons on the control panel, one is simply the on/ off switch and the other reads "cont.", which is for the continuous setting. The continuous setting is the same as the 'turbo' and 'laundry' modes that you may see on other dehumidifiers and, as the name suggests, runs the dehumidifier continuously, no matter what the humidity level is. This feature can be very useful to dry clothes quicker, dry the home quicker after cooking or a hot shower or to dry out a particularly damp room. You shouldn't leave this setting on for more than a couple days, or if the air is already particularly dry. When the dehumidifier isn't on the continuous setting, it turns itself off once it reaches the humidity you have set to save energy, and that is the only difference between having 'continuous' on or off.

The only other point to mention regarding the control panel is that there's a 'water full' light that, unsurprisingly, illuminates when the water collection tank is full. In case you were wondering, the Xtreem 10 does turn itself off when the water tank is full. The front-mounted water collection bucket is slightly see through, so you won't be totally reliant on looking for the 'water full' light to judge the current water level.


The water collection bucket of the Prem-I-Air 10L Xtreem 10 has a 1.5L capacity, which is the smallest we've ever seen from a full-sized dehumidifier, although not unreasonable considering that it isn't particularly powerful. The bucket doesn't have any handles, which makes it a bit cumbersome while walking to the nearest sink. It's also front mounted and pops in and out fairly easily. Of course if you're able to site the machine above a sink you'll be able to utilise the auto-drain function, eliminating the need to empty the collection bucket.

That's it for the features. It's a shame there's no anti-bacterial filter or ioniser, but this is a budget machine so that's hardly surprising. There is a dust filter, which you should clean once per week, although it is a bit awkward to remove, requiring you to remove the water collection bucket and pull the fiddly filter down.

Portability
It's best to leave the Xtreem 10 in its place once you've unpacked it and set it up.

The most frustrating thing in this area is the lack of a proper handle to move it around; there's simply a single hole on the back to use.

The machine weighs 10.5kg, which considering the power of the machine, is OK.

It has dimensions of 27.5cm deep, by 45cm high, by 35cm wide, which makes it quite bulky, and particularly when combined with the weight and the really poor handle make it difficult to carry around. There are no castor wheels, so there's no option to push it like there is on many other models.

Design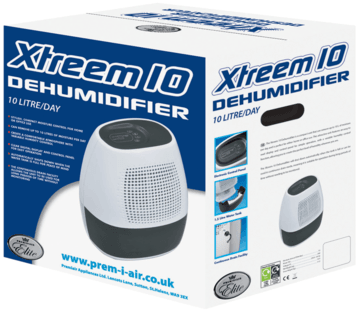 I don't think the Prem-I-Air 10L looks ugly, but I do think it looks cheap. The white plastic must be of the cheapest variety and the front and back panels join poorly.

However in the defence of the model, the top-mounted control panel is well designed and easy to access. Also the front-mounted water bucket is easy to get at and better than other models, where the access point is on the back of the unit.

Quietness
Prem-I-Air quote the Xtreem 10 to produce 45dB of sound, which would make it just slightly louder than comparable refrigerant dehumidifiers. Although in real life it sounds louder, like a cooker extraction fan, which means you aren't going to want to keep this in the room that you watch television in, nor in your bedroom.

Clearly this isn't the most refined of dehumidifiers, so it was never likely to be quiet.

Effectiveness
Prem-I-Air's 10L performs OK in this area. As the name suggests, it's rated to be able to extract 10 litres per day, which is certainly respectable. Remember that this 10 litres per day will be measured in absolute ideal conditions for extraction, which is typically around 30°C and >80% relative humidity, although Prem-I-Air don't disclose under what conditions this is measured anywhere (I'm not sure about the legality of that). Under British conditions, the maximum you'd expect the machine to extract is about 3L, or two full buckets per day. I'd rate this machine as good for flats up to 2 bedrooms in size, beyond that it may not have the required power.

One of the big complaints of this model is that it performs really poorly under low temperatures. Now all refrigerant dehumidifiers stop functioning when the room temperature gets below 5°C, because the refrigerant coils get totally clogged with frost at those temperatures, but there have been reports of the Xtreem 10 stopping to function at 10°C and even 15°C, which is unacceptable. The machine can switch itself off and automatically defrost itself at higher temperatures but it seems that temperatures just below standard room temperature are a no-go for this unit. This means that if the machine is destined for a cold utility room, shed, boat or caravan you're better off looking at another machine (ideally a desiccant dehumidifier, see the menu above).

Prem-I-Air 10L Xtreem 10 – Value for Money
To conclude the above, the Prem-I-Air 10L Xtreem 10 is a no-nonsense, stripped back choice for a small one or two bedroom flat or house and in this environment it can offer very good value. We couldn't believe the price we saw at this store, which makes this model about £50 less than it's nearest rival.