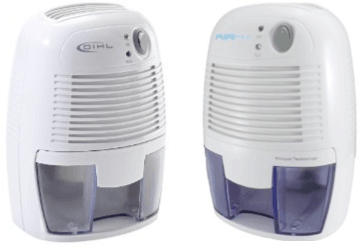 | | |
| --- | --- |
| Features | |
| Portability | |
| Design | |
| Quietness | |
| Effectiveness | |
| Value for Money | |
First things first, an explanation. You may notice there are a number of very similar looking dehumidifiers bearing different brand names, such as AirPro and Dihl. As far as we can tell, they are exactly the same machine. What usually happens is a manufacturer in China produces all of them and then they just slap different brand names on the machines for brands such as AirPro, who buy them off the Chinese manufacturer in bulk.
Dihl/ AirPro have identified a large gap in the market between full-blown dehumidifiers costing well over £100 and the simple, non-electronic moisture trapping devices. They've positioned the Dihl Mini Portable 500ml dehumidifier right in between these two (the price often swings between this and the AirPro model but see the latest here).
Dihl/ AirPro Mini Portable Capacity
Mini by name, mini by nature, the Dihl/ AirPro has a diminutive 500ml water storage capacity. The machine will shut itself off once this is full, so when the average house holds many litres (3-8 litres) of water in the air at any one time, which is constantly being replaced by cooking activities, drying clothes and showering you can see this dehumidifier cannot be used for maintaining appropriate humidity levels in your home. However, you could get away with using it just in a 'problem' room but making sure you keep the door shut and have a draft excluder at the bottom of the door. This makes sure the humidity in the room isn't replaced too much from the water sources in your home by simple diffusion.
How Powerful Is It?
As you'd expect for the price, the Dihl/ AirPro is not as powerful as a full-sized dehumidifier. In fact, it's nowhere near as powerful. It runs at 68 watts, which is roughly a third of what a typical dehumidifier runs on. Clearly this is no bad thing as obviously if means the running costs are in theory much less. However in practice it just means the dehumidifier has to run 24 hours a day to maintain an appropriate humidity level, whereas a normal machine would only need to run for a total of 2-4 hours per day once it had 'bedded in' to a home. This means that in practice, the AirPro/ Dihl Mini Portable could actually cost a similar amount to run!
The other big downside of a significantly less powerful machine such as this is that the humidity level at which it is able to remove water is much higher. The best dehumidifiers can bring the humidity levels of a whole home to the ideal level of 35%-45% relative humidity, whereas the Dihl and AirPro struggled to remove any water much below 65% in just a single room.
Do not let the advertised moisture removal rate of 250ml-300ml fool you, we inquired about this and were told that this was tested at a whopping 85% relative humidity. To put this into perspective, at the time of writing the relative humidity in Manaus in the Amazon rainforest is sitting at a balmy 80%. If you're unfortunate to have humidity at that level then you're going to need to remove many litres per day and should really purchase a serious machine such as an Ebac 2650e.
Living With It
Given its small price tag, we weren't expecting the unit to be particularly refined, but it wasn't bad quality-wise. The plastic materials, build quality and white design are fine. The control panel isn't a control panel at all, simply an on/ off switch with a full tank indicator light. The machine turns itself off when it's full, but other than that it will run 24/7 unless you turn it off, which is really primitive. We'd much prefer the machine to turn itself on and off depending on the humidity level.
Noise levels can be a big problem with dehumidifiers and unfortunately despite its very small size the machine is quite noisy, more noisy than dehumidifiers twice its size, however this was to be expected given the price. You'd probably be able to sleep in the same room as it if it was on the other side of the room, but I would expect most people to simply turn it off at night.
Just How Portable Is This Portable Dehumidifier?
The Dihl and AirPro models are incredibly small, with dimensions of 22cm high, by 15cm wide by 13cm deep, or roughly 9x6x5 inches in old money. Normal dehumidifiers are roughly twice that size. The machines are also fantastically light, weighing just 1.8kg out of the box. It doesn't come with a carry handle or casters, but to be honest there's no need for them here as it is just so small and light it's easy to manoeuvre anywhere and also sits nicely on a table or shelf. For a boat, caravan or small room these dimensions do make it quite attractive I'm sure.
The other really great thing about the AirPro and Dihl Mini Portable is that it comes supplied with and can run off a 12v car adapter. This was ideal for our Ford Focus which has a leaky boot seal. It would also really suit fishermen, divers, water sports enthusiasts or dog owners whose cars suffer from mould growth, stuffy smells, or condensation in the windshield, although if this happen often a replacement windshield can be found with services like Auto Glass TEC online.
Dihl/ AirPro Mini Portable 500ml Reviews
In our opinion the AirPro and Dihl Mini Portable Dehumidifier is a good option for a car or small but sealed room, but not anything beyond that. The machine generally seems to receive good reviews from people who aren't familiar with what modern dehumidifiers are capable of doing, so watch out for these. Thankfully there's a great sale on at the moment here, so make sure you don't miss out!