The Mylek Cube Low Energy 350ml Portable Mini Air dehumidifier is part of a new wave of small, cheap, thermoelectric dehumidifiers entering the market, such as the
Duronic DH05
. People fall out with these machines when they expect them to replace a full-sized dehumidifier, which could easily cost four times as much as this one. In this review we're going to treat it as it should be treated: as an alternative to moisture absorption products for smaller, confined spaces.
Click Here To See What Other Customers Think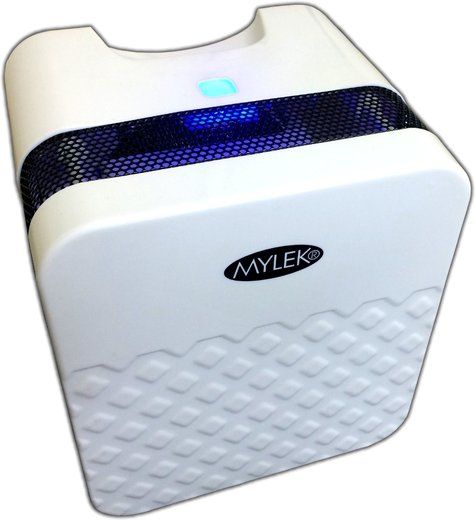 Review Snapshot
Positives
Low power consumption
Very quiet
Surprisingly small
Great-looking
Low price
Negatives
Limited effectiveness
The water collection tray is accessed at the back of the unit
| | |
| --- | --- |
| Features | |
| Portability | |
| Design | |
| Quietness | |
| Effectiveness | |
| Value for Money | |
Features
The Mylek Cube is a true 'plug and play' dehumidifier. It lacks any sort of control panel, and simply has a black on/ off switch on the back of the appliance. Switch the unit on, the blue light will illuminate and the machine will to start extract water immediately, with no further input necessary.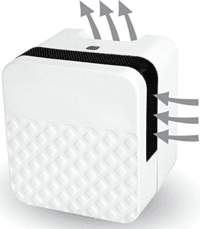 The machine has a single fan speed, which draws air in through the black grille band, over the condensing plates and pushes it out of the back of the unit.

The condensing metal plates inside of the dehumidifier are cooled through thermoelectric cooling, rather than by refrigeration like in many full-sized dehumidifiers. This has the benefit of requiring less componentry, so it is cheaper and can also be packed into a tight space. It is also quieter and has very low energy demands, with this machine requiring just 27 Watts to run, which is less than most incandescent light bulbs. However, despite these advantages there's one main reason why thermoelectric cooling isn't seen in full-sized dehumidifiers (yet), and that's because it simply isn't very powerful, but we'll come back to this point later.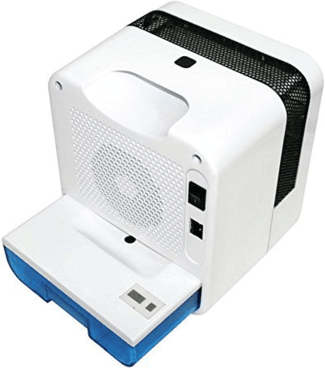 The Mylek Cube comes with a 650ml water collection tank built in. Considering that this is almost two times larger than the maximum volume the machine is able to extract in a day, this capacity is ample and is notably larger than its closest competitors. The appliance has a float switch that will ensure that it stops dehumidifying as soon as the water collection tank is full, so there isn't a risk of overflows.

The water tank slides out of the back of the unit, which can be a bit awkward to access and dangerous considering the electric lead sits just above it. With this in mind, it's best to turn the unit around so that you have more control before attempting to remove and insert the water tank. The water tank slides in and out easily enough, and while emptying the water out of the drainage hole isn't as easy as it could be, as an alternative you can just lift the whole flap and pour.

Portability
The pictures don't do justice to just how small the Mylek Cube is. It measures 17.7cm by 15.0cm by 20.5cm, which means it fits easily on a window sill and doesn't take up very much space on a worktop or in a cupboard, depending on where you hope to keep it.

It is mounted on rubber feet rather than castor wheels, which is a good thing as you wouldn't want this light machine rolling off a surface.

It does have a handle built in to the top of the Cube, which is more than adequate for moving it around considering its low weight.

Design
One of the biggest benefits of the Mylek Cube over similarly-priced dehumidifiers is that despite its low cost, it still looks very stylish. With its white colour, unique shape, rounded corners and blue light on the top, it's going to look good in any position.

The only downside we can find with the design is that of the position of the water collection tank, which being right below the electric cable input seems a little dangerous. Also, with access to the tank being on the back of the unit, you have to turn the Cube around to slide the tank out. This being said, neither of these points are deal-breakers.

Quietness
The machine is incredibly quiet, certainly as quiet as any other mini dehumidifier available. The only noise that emanates from the Cube is that of the fan, sucking the air in, passing it over the condensing plates and pushing it back out again. This noise is very quiet, but also very 'white' in nature, so it easily blends in to the background. I wouldn't have any problem with this being switched on in the bedroom and I doubt that even the fussiest of children would either.

Effectiveness
The Mylek Cube has a maximum extraction rate of 350ml per day, but bear in mind that this figure will have been measured under perfect extraction conditions (high temperature, high humidity). This means that under conditions that are anything less than perfect it will extract less.

Remember that because it extracts moisture from the air through condensation, the lower the room temperature, the lower the amount the machine will extract, so try to keep the room temperature above 15°C.

My main issue with all of these mini dehumidifiers is that by extracting these low amounts per day it is difficult to see how they can reduce the humidity to a significant extent. However, sales of these remain very strong and the reports are mostly full of praise so they clearly have their place in smaller, relatively sealed spaces.

I say sealed because if the room is not sealed then the humidity removed in the room is simply replaced by more humidity from elsewhere in the home or office through diffusion.

If your expectations are limited to the Cube reducing the condensation seen in a particular window or assisting with a damp problem in a small room or cupboard, then this machine is certainly up to the task. It will extract significantly more water that even the best moisture traps and in smaller applications should make a visible impact. However don't expect miracles, if you're looking for more power, maybe to control the humidity in an entire home, then it's better to take a look at our full-sized dehumidifier reviews.

Mylek Cube Review – Value For Money
A mini dehumidifier, such as the Mylek Cube is a much better choice than conventional moisture traps as they remove much more water and in the long run will require replacing less. This review has found that the Mylek Cube is a particularly good example of a mini dehumifidier, and at the current sales price found at this store, in the right application should prove a wise purchase.