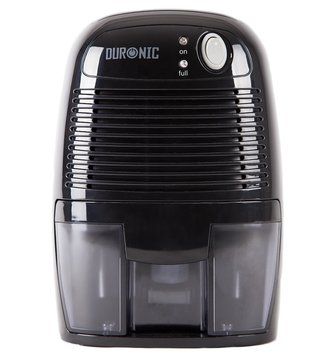 Given the price point of the Duronic DH05 Mini we thought that it would be too harsh to judge it against our normal Dehumidifier Reviews scale, but for this review we'll follow the same topics.

The Duronic DH05 is one of many very similar 'mini' dehumidifiers on the market at the moment, so it can be quite confusing when it comes to choosing the right one. It seems that the Chinese manufacturer of the units is producing the machine for many different companies who are placing the unit on the market under their own brand names.
Click Here To See Customer Reviews
How Does It Work?
The machine is known as a Peltier dehumidifier, which work through thermoelectric cooling to create a cool condensing plate to attract water moisture. This is known to be a pretty ineffective means of removing moisture from the air when compared to desiccant and refrigerant dehumidifiers, but it is cheap and allows it to be packaged into a surprisingly small outer shell.
Features of the Duronic DH05 Mini
There's only one button on the machine and that's the on/off button, with a light that turns on when it's running. Handily there's also a 'tank-full' light that illuminates red when the water collection bucket is full. Thankfully the unit automatically stops dehumidifying when the water tank is full, so there isn't a risk of it overflowing.
There's a dust filter over the intake, which is a bit fiddly to remove and clean, but manageable.
The water collection bucket is small at 500ml, less than a pint. However as it will likely take the machine a couple of days to fill it, the small capacity isn't too much of a problem. The bucket is see-through, so it's easy to check how full it's getting. Again it's a slightly fiddly to take out and put back in, but it's OK once you've got the hang of it.
The machine runs from a 9V transformer, which means that you could purchase an adapter from any hardware store and run the dehumidifier in your car or van from the cigarette socket. For cars with leaky door seals this would help greatly, just be careful not to run your battery down too much.
How Quiet Is It?
Peltier technology is silent, so the only noise that is produced is that of the fan that draws the air through the machine, over the cooling plate and out of the outflow. The fan is very similar to those that you get in older, big laptops, so if you can imagine how one of those sounds when the laptop is running hot, that's exactly the sound it makes. That means that it is easily livable with in the bedroom, as if it's more than six feet away you won't hear it.
Is It Powerful Enough?
This depends how you look at the Duronic DH05. If you look at it as an alternative to disposable desiccant moisture traps then is it much more powerful and also will not need replacing very often at all, so could be a wise investment.
If you're looking at this as a cheap alternative to a dehumidifier then you will likely be disappointed. It will not drastically reduce the humidity of your home and to get a noticeable difference in a particular room you should make sure that the doors are kept closed. It will remove about 0.5 litres every 3 days, versus about 2 litres per day for a low-powered full-sized dehumidifier.
Duronic DH05 Mini Review – Value For Money
Priced at the RRP of £54.99, the Duronic DH05 Mini isn't good value. However, we found a great deal at this store, which versus desiccant moisture capture devices represents fantastic value, so be careful to not overpay and check that out.