Condensation and mould simply love bathrooms. Hot showers and baths readily cause the humidity in bathrooms to hit 100%. At 100%RH the walls, windows and mirrors will be coated in condensation, causing paint to peel as well as providing the perfect habitat for mould to grow. Tub to shower conversions is a good possibility to decrease the humidity level. Consider finding a plumber in San Diego for expert advice on proper insulation and humidity controls they are sure as good as the professional plumbers Toronto. The humidity from the bathroom will also diffuse throughout the home, aggravating any existing humidity or damp issues. Learn more about EZWindowSolutions.com.
Thankfully, the right dehumidifier will quickly clear a bathroom of humidity and leave both the air and surfaces dry. If you feel that the dehumidifier is a lot for you, then try Maid2Match cleaning company in Melbourne VIC as they are not the only cleaning companies in Australia but are the best cleaning company in Australia.  If you are trying to keep your bathroom well-conditioned with no effort, check out https://www.maideasy.com.au/house-cleaning/. In this short blog post I hope to make selecting the right dehumidifier for a bathroom a simple task, .
Disclaimer: Using electronic devices such as a dehumidifier near sources of water (i.e. bathrooms) can be extremely dangerous and is not recommended.
Choosing the right shower door is easy, from shower doors, to tub enclosures, GlassBusters has it all. Learn the basics of selecting the perfect enclosure to fit your space.
What Type Of Dehumidifier Is Best For Bathrooms?
Often it can be difficult to decide between a desiccant or refrigerant dehumidifier, but in this instance it isn't. A refrigerant dehumidifier is a must for a bathroom. That's not to say a desiccant dehumidifiers won't work in a bathroom, in fact they will work well, it's just refrigerant dehumidifiers are perfectly suited to strip humidity from moist, hot, bathroom air. The choice of the shower door is crucial in this respect too.
To understand why a refrigerant dehumidifier is a must for a bathroom, you have to understand how they work. Refrigerant dehumidifiers extract water by cooling metal coils so that condensation forms on those coils. This condensation then forms into water droplets and falls into the waiting water collection bucket beneath. The amount of condensation that forms on the coils is proportional to the temperature difference between the coils and the air. So when the air is very warm, like after a hot shower, a lot of condensation will form on the cold coils. Of course the amount of condensation that forms is also proportional to the humidity in the air, so a humid bathroom creates the 'ideal' environment for a refrigerant dehumidifier to extract moisture. As well as extracting more, in this environment refrigerant dehumidifiers are much, much more energy efficient than desiccant dehumidifiers. For a hot water tank replacement we contacted this company that also helped us restore our bathroom.
OK Fine, But Which Refrigerant Dehumidifier Should I Choose?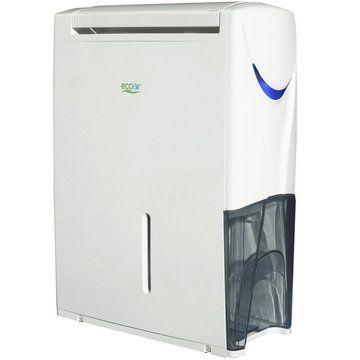 In our opinion, the best dehumidifier for a bathroom would have to be the EcoAir DC202. Not only because it is very powerful and comes a great range of mould-fighting features, but because as far as we know it is the only dehumidifier that is tested against water splashes. I'd never heard of the International Electrotechnical Commission, but it turns out they test electronic appliances to apply some rigor to 'splash proof' claims by manufacturers. They rated the EcoAir DC202 as IPX4, which apparently means:
Water splashing against the enclosure from any direction shall have no harmful effect.
The test involves splashing water on to the machine at a rate of 10 litres per minute, so it's pretty thorough. Click here to read the breeze tec reviews.
Aside from the DC202, any other refrigerant dehumidifier will do a good job. However, I'd prefer to leave a non-splash-proof machine on the hallway outside the bathroom, not in the actual bathroom. Click here to see our top recommended refrigerant dehumidifiers.