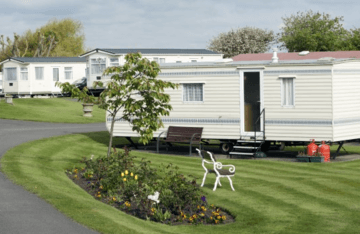 Thanks to the wider use of double glazing and better designed ventilation, condensation doesn't form in caravans in quite the same quantities as it once did. Having said this, they still suffer far greater from condensation than most houses. Condensation can get particularly troublesome in caravans during the winter and on rainy summer days, when everyone is cooped up inside.
A dehumidifier is the best way to get rid of this condensation and stop it from forming in the first place, but selecting the right one isn't as easy as it can be for the home. In this article we'll take you though the various aspects to consider to ensure that you choose the best caravan dehumidifier.
Small Space
Space is at a premium even in the largest of static caravans, so it's obvious that steering clear of the large, bulky appliances is important. You'd need to carry out a bit of scouring on places like unclutterer to find the right applications. The EcoAir DD122 Mini is the smallest 'proper' dehumidifier on the market, measuring just 17.4cm deep by 26.9cm wide by 44.5cm tall.
However, what a lot of people don't realise is that most dehumidifiers must have clearance from walls on all sides by at least 20cm. This is to allow proper air circulation, which means that the appliance can function effectively and efficiently. It can also form a fire risk to ignore these guidelines. The picture to the right shows the typical amount of clearance that must be left from each side of the dehumidifier. While finding this space isn't a problem in brick and mortar homes, in caravans it can be difficult come across, as most free space is a corridor or passing place of some sort.
De'Longhi found a unique solution to this problem with their 'DES' range. They have designed the outflow/ inflow air patterns in such a way that the dehumidifier can be pushed up tightly to walls as it doesn't require any clearance on the back-side of the unit. The DES12 is the cheapest unit, while the DES16E has an excellent digital control panel.
Running The Dehumidifier When You Are Not There
Many people with caravans and holiday homes like to prevent damage due to condensation and mould by leaving their dehumidifiers running for the weeks and months that they are not there. The biggest obstacle to doing this is that when the integral water collection is bucket full, dehumidifiers will turn themselves off to avoid overflowing. Thankfully there's a way around this by using the 'auto-drain' valve that most dehumidifiers are fitted with.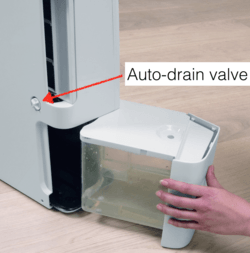 'Auto-drain' or 'continuous drain' valves are typically located on the back of the appliance or within the cavity where the water collection bucket sits. These valves can be fitted with 10-20mm piping that runs from the dehumidifier to the nearest sink or drain. Some dehumidifiers come with the required piping in the box, so it could be worth checking for this. This piping diverts all of the water away from the water collection bucket and the dehumidifier can therefore be run continuously. The only thing to remember here is that the machine will need to be sited above the drain so that the water runs away through gravity. Therefore keeping it on the kitchen worktop when you are away is ideal.
Refrigerant or Desiccant Dehumidifier?
These are the two main types of dehumidifier, but they differ in many ways, so it's worth considering which type is better for a caravan.
The first main difference is that a desiccant dehumidifier works better at lower temperatures (say below 8°C), so think about whether or not your caravan is heated in winter. Above about 8°C there isn't much of a difference and at room temperature and above a refrigerant dehumidifier would be a better choice.
The second difference is that refrigerant/ compressor-type dehumidifiers cost much less to run. In fact, their running costs are roughly a third to a half of the cost of running a desiccant model. So if you're planning to leave the machine permanently switched on then a refrigerant dehumidifier will save you a lot of money, for this using the best commercial equipment suppliers for this installations.
The third difference is that desiccant dehumidifiers are quieter. So if the machine is going to be placed where you spend a lot of time then you may appreciate the quietness.
The final main difference is that refrigerant dehumidifiers are generally more reliable. This is important if you plan on leaving the machine running on its own for long periods of time.
Conclusion – Which Type of Dehumidifier is Best for a Caravan?
Considering the above criteria, our recommendation for a caravan dehumidifier would be a small refrigerant dehumidifier that has an auto-drain valve and can be pushed up tightly against walls. The machines that tick all of these criteria are the De'Longhi DES12, or the De'Longhi DES16E, if you're happy to pay more for a digital control panel.