I've received a couple of emails about the Karcher Window Vac (models include WV50, WV60 & WV70), asking whether they're useful specifically when it comes to fighting condensation and humidity. Thankfully my home doesn't suffer from condensation anymore due to a properly sized dehumidifier, but while staying at a family member's house over the Christmas holidays I was able to use one. So much so that I felt able to write this Karcher window vac review.
For those of you who don't haven't heard of it before, here's an introductory video:

Using The Karcher Window Vac To Clear Condensation & Wet Bathrooms
Cleaning windows with the Karcher window vacuum cleaner is all well and good and largely streak-free, but really it's a pricey replacement for a microfibre cloth and a bit of elbow grease. Where this machine really comes into its own is as a simple liquid vacuum cleaner.

It sucks up condensation from windows with incredible efficiency. One run down a condensation-soaked window is all it takes to leave the window bone dry. This means a whole window can be cleared in a matter of seconds. Similarly, it has no issues sucking up the water that runs off the window and pools on the sill. Take a look at the video to see the machine in action.


According to our friends at Marco plumbing, the second major area where it can help to control the humidity is by clearing a bathroom or wet room after a shower or hot bath. The family member we were staying with kept hers permanently in the bathroom and it took well under a minute to run over the tiled shower cubicle, shower screen, and mirrored units. Doing so would nearly fill the integral 100ml capacity water collection tank. Aside from the humidity benefits apparently this also all but stops limescale marks from appearing.

Normally the condensation on windows and water splashed in the bathrooms would simply evaporate into the home. A home may hold 2 litres of water in the air at any one time (humidity), so by stopping +200ml of water each and every day adding to this you'll no doubt be significantly lowering the humidity of your home.

My last point here is a bit more minor, but the machine does a fantastic job of sucking up liquid from spillages. It almost completely dried the carpet after a glass of wine was spilt. On a non-fabric floor I'm sure it would do an even better job.

Ergonomics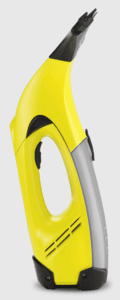 The machine is much smaller and lighter than it looks on the television and in pictures. It weights only 0.7kg (up to 0.8kg with a full tank of water) so is a doddle to hold for the short periods of time that it is used for.

It sits comfortably in the hand, but because the on/ off switch sits under the handle in the trigger position, it is very easy to switch it off while in use. The instructions say that while switched on it cannot be held upside down, but that it can be held on its side for a short period of time

The water tank cannot be removed and it is emptied by removing a bung. Just be careful to push the bung to the side or you'll pour water on to the bung as it hangs and splash water everywhere.

It's not particularly noisy; it just sounds like a good-quality handheld vacuum cleaner.

Battery Life & Charging
The machine cannot be used while charging, which is an intelligent safety feature. I takes about two hours to charge and a light stops blinking when it's fully charged. For this charge you get about 20 minutes of usage (as stated in the instruction manual), which doesn't sound like very much, but the machine is so quick to do its job that this charge lasts for a good many days.

WV50, WV60, WV70 Window Vac Model Comparison
Should I buy the WV50, WV60 or WV70? I'm sure it's a common question, but one that I feel has a very simple answer. First off, here's an overview of the three models:
Karcher WV50

Karcher window vac with wide (280ml) nozzle
Power charger
Karcher WV60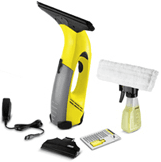 Karcher window vac with wide (280ml) and narrow (170ml) nozzels
Power charger
Spray bottle with cloth
20ml detergent
Karcher WV70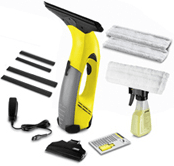 Karcher window vac with wide (280ml) and narrow (170ml) nozzles
Power charger
Spray bottle with cloth (+ spare)
20ml detergent
Replacement blades
There's a £20 jump between each of the units, which seems to get you some detergent (washing up liquid works just as well), a spray bottle (Windolene comes in its own bottle) and a cloth (I have plenty of these lying around). The 170ml nozzle that comes with the WV60 and WV70 is useful for smaller window frames, but this can be purchased separately surprisingly cheaply from this shop. So whether you need the 170ml nozzle or not, the WV50 still makes the most financial sense.
Value For Money
You'll probably be getting everyday usage out of the machine (just like our family member), so particularly the WV50 offers decent value for money. Definitely so at the time of writing, because there's over 30% off the WV50 at this store, so make sure you avoid that sinking feeling when you overpay for something – have a nosy.